Testimonial from Ming Kai Leung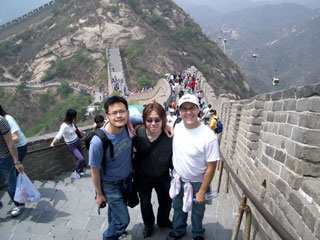 Traveling to Beijing just before the attacks of heat waves was a pretty exciting idea; showing my short film and talking to local audience made it even better; enjoying Rose Chen's and the Rose group's organization of the trip was fantastic. Sharing this whole experience with two fellow filmmakers was unbelievable.
From the Forbidden City to avant-garde galleries of Dai Shan Zi 798 District; from monumental Chairman Mao resting in crystal coffin to his monochromic plastic statue with comical breasts; from handmade dumplings on the street to pretentious fusion cuisine in private club; from century-old courtyard housing generations of families to hipsters' coffee shop located in the very same Hutong; from Taichi practice groups in Bei Hai Park early in the morning to young Hip Hop lovers in club house after mid-night; Beijing offered a vibrant spectrum that allowed me to take a glance of people's life in the most populated country. Sure you can read a lot about these in guidebooks, but putting yourself at the very crossroad of tradition and development is a unique first hand experience beyond description. As filmmakers with cameras in hands, we were trying every possible angle to capture glimpses of these wonders, only to find that we often end up with the same choice of composition.
Having been born and raised up in Hong Kong, I can never say I am totally unfamiliar with China. But traveling with two friends from America offered me new perspectives. Seeing them amazed by things I took for granted was a real thought stimulator. Trying to make up answers to their insightful questions that I had never asked myself was very challenging. I hope I have taken advantage of this melding of two cultures as much as I could.
During our stay, we were fortunate enough to have conversations with local young people, not only at obvious venues like Beijing Film Academy and book café, but also at unlikely locations, such as taxi stands and air-raid shelter (which now turned into a tourist attraction). I am most impressed by their curiosity, intelligence and determination. Learning English is one of their favorite pass times, and they are looking for every opportunity to broaden their horizon. Talking to them was very inspiring and encouraging.
"Reading ten thousand scrolls is nothing compared to traveling ten thousand miles."
An ancient Chinese saying so often heard that I almost feel embarrassed to quote. But it is so true for this trip that I am unable to neglect. I cannot say enough how grateful I am to Rose and the group for this valuable opportunity.
Ming Kai Leung
Related Link