Joe Turner Lin's Testimonial about his trip to China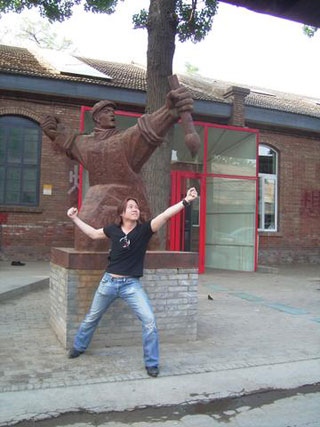 In May of 2006, I was given a truly incredible opportunity: to visit Beijing under the auspices of the Chinese-American Festival of Film and Culture. My short film, "Seibutsu (Still: Life)" was one of three winning films from the U.S. to be screened at the Hart Center in Beijing's up-and-coming art-district.
For me, the few months leading up to the trip were filled with both excitement and trepidation. I really had no idea what to expect. When I arrived, it was into the bustle and crowds of one of Beijing's three airports. A sea of hand-held signs greeted me, but I couldn't find my own name. After stumbling around the terminal, nervous but also fascinated, I finally found the driver, the translator, and one of my fellow filmmakers. We then drove to our hotel to meet our host, Rose Chen.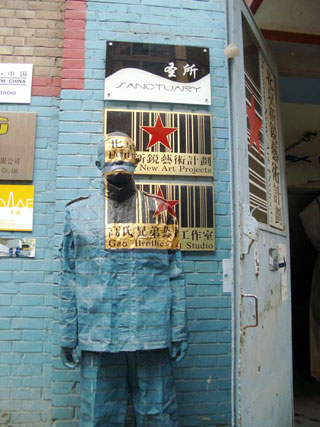 Rose gave us one mandate: to experience as much of Beijing as we could in one week. As much as we were there to have our films seen by a Chinese audience we were also there in the capacity as an interpretive lens, to bear witness to the rapid changes in China as various worldwide cultures rush in to a previously relatively closed system, and to participate in conversation. One of the main forms of this exchange has been through film, what I would consider to be the world's current dominant ideological vehicle; in the 1700s it was opera, today it's film. And so we took her up on her challenge, and began a week of exploration in a city as intriguing as it is enormous.
I must take a moment out to say that I could not have possibly had better company than in the persons of Kai and Nic. These two fantastic filmmakers, and superb people, were not only willing to go anywhere, do anything, eat anything, talk to anyone, but we had occasion to each lead the charge when the others were waning. I think my trip might have been very different with other traveling companions, and I owe them a lot.
To give you an idea of what our trip was like, please allow me to exhibit the following schedule:
Meet and have a meal with Kevin, our translator
Visit the Forbidden City
Walk around Tiananmen Square
Have lunch with Mr. Wang and Kevin at a local restaurant
Visit The Temple of Heaven
Peruse the indoor market, Hong Qiao (Pearl Market)
Walk through the oldest hutong in Beijing
Walk through Oriental Plaza (the Times Square of Beijing), buy shirt at store
Experience a Bungee jump
Eat at a hotpot place in Mall
Walk to Grand Hyatt hotel, buy tickets at the Star Cinema Theater for The Da Vinci Code
Have a drink at a bar on the Sanlitun strip
Experience a 90-minute reflexology massage
Email my friends back home. Sleep.
So that was Wednesday, the third day of our week-long trip. It stayed that busy for us, every single day I was there, all week.
I have been trying to come up with a way to capture just how event- filled and inspiring this opportunity to visit China was for me, and I find myself almost at a loss for words. Each day would begin for us around 7 or 8 AM, and we would not return to our hotel until at least 1 or 2 in the morning (and on a few nights much later).
In the mornings, we would usually travel to an historical site of some kind, whether it be the Great Wall, the Lama Temple, the Forbidden City, the Temple of Heaven, or Tiananmen Square. Kevin, our translator and guide, would answer any questions we had. In the afternoons, we would often find ourselves in the 798 District, a working factory district in the fourth ring, spotted with hundreds of galleries from contemporary artists and musicians in Beijing. This was where our screening was held on our final Saturday in Beijing. The atmosphere of the place was truly exhilarating; it felt akin to Williamsburg in the 90s, or what I imagine Soho in the 60s and Paris in the 20s must have been like as they were ushering in artists trying to find the edge, trying to create something new. In the evenings, either Rose would take us out to dinner or we would find a place a local would recommend. At night we just tried to find some trouble to get into, wandering around the brilliant lights on Ghost Road, having a few drinks with some ex-pats, going to a glitzy Chinese karaoke bar, being accosted by street vendors, riding the paddle-boats in the man-made Houhai lake, or making some new Chinese friends at the Bookworm, an English bookstore. And of course, one night we checked out how the theatrical distribution end of the filmmaking progress was progressing in China by catching a screening of The Da Vinci Code. The exhibition systems in China could use a little work.
New discoveries were lurking behind every corner, and Nic, Kai and I would find ourselves moving seamlessly from devastated hutongs filled with the texture of day-to-day life in the poorer sections of Beijing (dogs and cats in the streets, buildings without rooftops, people sleeping in mattresses outdoors on the street) to the sleek buildings of what I imagine modern cities to be (sleek buildings, four-story-high billboards, shiny new shopping malls).
Beijing is so clearly a city in the midst's of growing pains. Construction was everywhere, with working cranes filling the night sky as we sat in a rooftop bar. Dust and sand and smog were also prevalent, perhaps the only stain on an otherwise sparkling adventure -- although that too is sewn into the fabric of my memories of the place.
Returning to New York City, I find my hometown unbelievably clean and colorful and a little empty. The streets here are so much wider, and orderly, and finished. I missed Beijing for a few weeks, struck by the occasional, powerful craving for Chinese food, or a phantom memory of the crowds as I made my way through Times Square. There is something exciting about Beijing, and China as a whole. It is a city and a country on the cusp, ready to leap into modern society technologically; but socially there are gaps. These gaps are starting to get filled in by media, and outside cultures, and I think the doing of it will cause a dramatic change in the next few years. It will be an evolution, a transformation. Having had this experience, I now know how much I'd love to be a part of that transformation.
Joe Turner Lin
Related Link