Testimonial from Jennifer Tippins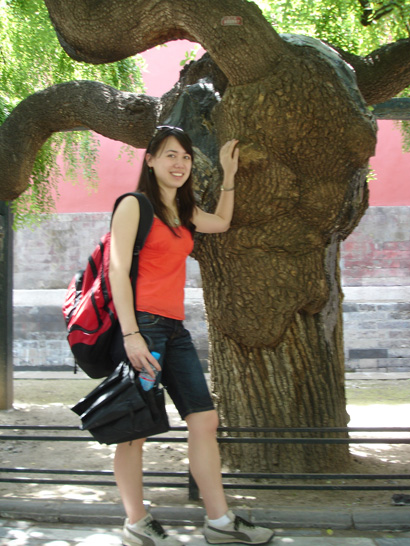 I remember being at work, a half-hour before it was time to go home. I casually decided to check my email, and there it was, an e-mail from Rose, telling me I had been chosen a winner of the 3rd annual China-America Festival of Film and Culture competition. I was shocked, and exhilarated. I was going to China, and for the next two months I fantasized about the trip to Beijing, wondering what I would be doing, seeing, experiencing when I got there.
Two months flew by, and the next thing I knew, I was at the airport, boarding a plane and awaiting the journey to Beijing. I met my two traveling companions, Suzi and Duncan, and after a 13-hour flight, we were finally in China!
We started the week off going to the must-see places of the city with our guides from the host organization, CAIFC. We climbed the Great Wall at Badaling, toured the beautiful Summer Palace, walked the wide expanse of Tiananmen Square, followed the footsteps of emperors across ancient cobblestones at Forbidden City, and felt the closeness of heaven at the breathtaking Temple of Heaven.
As the week progressed, we started exploring the city more on our own, getting a more personal feel and perspective on everyday life in Beijing. My most favorite memories of the city were simply walking through the historic hutong neighborhoods, buying bread from a local vendor, and peeking in to get a glimpse of how the locals live.
On our third day, Suzi and I took a long bike ride around the neighborhood. Having planned a careful route using our tour books, we set off through the narrow streets near Xihai and Houhai Lake. Navigating traffic in Beijing was a challenge, but it felt great to see the city this way, swerving through cars, bicycles, carts, pedestrians, and motor bikes, all the while ringing my bell to make sure I didn't crash into anyone. We climbed to the top of the centuries old Bell Tower, and afterwards rode all the way to the five-star Peninsula Palace Hotel, where we had lunch at luxurious Huang Ting restaurant. Then we went to the Lama Temple, where the smell of incense blanketed the air, and I saw the largest statue of Buddha I've ever seen. By evening it was time to meet Rose for a delicious Peking duck dinner and a tour of the Central Business District neighborhood. What a day!
Other great memories were: seeing the Academy-award winning short documentary film, The Blood of Yangzhou District, at the UNICEF center in Beijing, shopping (and learning how to bargain) at the Pearl Market Mall, exploring the art galleries at District 798, waking up early to watch people singing and dancing in Beihai Park, meeting Dr. Leon at Beijing Normal University where we toured the University's art department, and of course, the film screening at the end of the week at the Hart Center.
On our last night in the city, we sat in a Starbucks near the hotel with friends from the film screening, drinking red bean Frappucinos and sharing our experiences growing up in our respective countries and our dreams and ambitions working in film and media.
When we were boarding the plane to return home, I thought about how much we did in just 7 days, how just a week ago I had never been in China, I had never met Duncan, Suzi, Rose and the friends we made in Beijing, how I had never eaten red blood turnip or shaved ice with red beans, I had never said "duoshao qian?" to anyone, never seen so many bicycles riding along next to car traffic or so many colorful parasols open to block out the hot summer sun, and never had I drank so much tea!
Words cannot describe how much this journey means to me, and all of what I experienced is now safely tucked away in my memory, stored on pages of my journal, and re-visited in my photographs. I'm so happy to have traveled with Duncan and Suzi, and I thank them and Rose for enriching both my experiences in Beijing and also my perception of filmmaking's importance in this world.
I've continued a tea-drinking habit that I started in Beijing, and I'm trying hard to make the Chinese candy and cakes I bought there last for a while. When I think about my trip to Beijing, I'm reminded of how much I learned that week, and I start to plan when I will return to China. I can't wait to hear again the sound of those bicycle bells jangling…

Related Link