China Exchange Program 2005 Participant Christian Gaines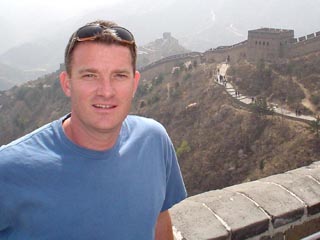 The trip to China was very special and meaningful to me, I felt so very, very lucky to have been a part of the adventure. I am trying my hardest to maintain the connections I made while in China. It has been such a wonderful learning experience, and I have so very many things to think about.
Saturday, April 16
4:00 pm - Opening Ceremonies of the Beijing Student Film Festival (BSFF)
This was much more of an affair than you might imagine. Lots of press there (although all Chinese of course) for the ceremonies and Chinese stars of the opening film. Important to note that this festival is not student films, it is a festival of Chinese films for Chinese students--it is now a nationwide event, with more than one hundred colleges and universities showing Chinese films to literally hundreds of thousands of students. The organization, Collateral, etc. is still a bit rough around the edges (the event is ten years old), but they are very pleased indeed that the American Film Institute (AFI) is presenting five films from the 100-years list at Beijing Normal University in May. AFI was acknowledged in Mandarin (I was told) and everyone clapped enthusiastically. This presentation is a big deal not just for BSFF but also for the American Embassy in Beijing. Their last film presentation attempt was working with the Slamdance Film Festival a few years ago, and the ambassador was not happy with the risqué film choices apparently.
8:00 pm - Dinner with Peter Loehr, producer and CEO of Ming Productions
Peter has produced nearly a dozen independent films in Beijing, including festival hits like "Shower" and "Quitting." His films are routinely sold for distribution around the world by Fortissimo Film Sales. His Mandarin is fluent. He has been raising money for films in China for almost ten years. He is an excellent contact and general source of information on the sixth generation-and-beyond filmmakers and is also an excellent go-to person for suggestions on protocol issues. Peter is also bringing a delegation of Chinese filmmakers to Cannes, and he is an excellent resource to reach filmmakers directly, encourage them to hold U.S. (or WP) for AFI FEST 2005 if and as necessary.
Sunday, April 17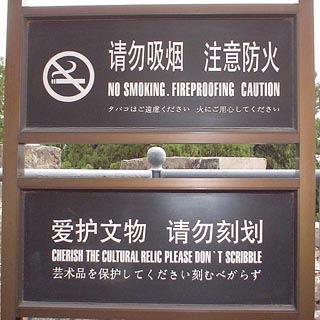 6:00 pm - Dinner with Cultural Affairs Officer (CAO) Darrell Jenks, Curator with the Hart Center of the Arts Cindy Zeng, Dr. Irby Brown, and our host Rose Nan-Ping Chen
Darrell Jenks is a very interesting CAO. He is a linguist (speaks at least 6 languages, and as I am told, the most beautiful mandarin imaginable). He's astute, opinionated, and unquestionably an expert on the Chinese social mentality, which needless to say is so very, very different from our own, and it's hard to know where to begin. On top of that, he likes to think of himself as a maverick, sporting bolo ties and cowboy boots (he's from Santa Fe originally.) over the more standard issue suit and tie embassy wear. He is very excited about the AFI involvement in the BSFF, and very much wants to have more presentations of American films in Beijing. Of course, like all CAO's, his three-year tour in Beijing is up soon and he's heading to Seoul in June.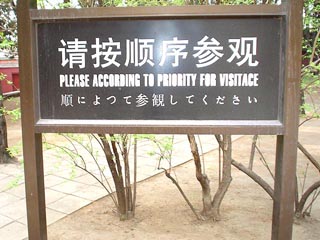 8:00 pm - Meeting with Beijing Independent Filmmakers at the Hart Center
The Hart Center is an independent arts center in Beijing. It's part of an old weapons factory conversion project in Beijing--now there are coffee shops and trendy art galleries. The occasional "Long Live Chairman Mao" slogan is preserved on walls and ceilings for kitsch posterity. The Hart Center is run by a smart, savvy entrepreneur, Cindy Zeng, and her husband Lao Dan. The Hart Center is one of the first (if not the first) venue in Beijing exhibiting truly independent films in a calendar format. Ironically at this stage, most of their well-attended screenings play for ex-patriots, as China's appetite for alternative exhibition is completely embryonic, at least at this stage. For two hours we met with about ten independent filmmaker and listened to their accounts of struggle with funding, censorship, and other such issues both encountered and not by filmmakers from around the world. Of particular interest was listening to a quite well-known Chinese independent filmmaker Ning Ying talking about her struggles, even though she is very well-known on the international film festival circuit. Also independent producer Lola (no other name), as she attempted to secure the various permits and approvals from government officials for her film, realized that she was encountering issues common to all Chinese filmmakers, decided to found the New Film Project of Chinese Youth Directors--a kind of IFP for Chinese filmmakers. Her film Two Great Sheep is doing quite well in Chinese theatres currently.
Monday, April 18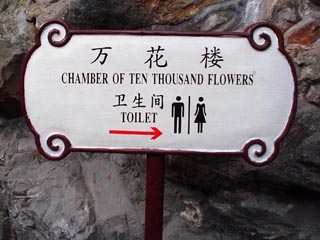 8:00 am - Met more representatives of Cultural Affairs Department from the U.S. Embassy in Beijing
Finally met Kristine Sauer with the Embassy, with whom I had been corresponding with for several months. We proceeded to the Beijing Film Academy (BFA) together.
9:00 am - Met with Mr. Xie Fei, famous director and former Vice President of BFA
This was an unexpected thrill. As you might know, the BFA is also the birthplace of seminal fifth generation Chinese filmmakers like Chen Kaige and Zhang Yimou. I have been a fan of Xie Fei's work, although he gave up making films to teach full-time about ten years ago. His film Women from the Lake of Scented Souls is one of my favorites and he graduated in the same class as the fifth generation filmmakers. It was a pleasure to meet with him and talk about his films. I had met him once before in Hawaii many years ago, so it was good to reconnect.
9:30 am - Met with Mr. Xie Xiaojin, current Vice President of BFA
This was an interesting fact-finding mission about BFA. BFA actually has both an undergraduate (four years) and graduate program (three years) program, meaning you can be in film school for seven years in China! Total student body numbered a little over five thousand. Their equipment is a mix of new technologies (They have an animation department and they are proud of their blue/green screen student work.) and somewhat antiquated equipment. 16mm is still widely utilized for student work, along with 35mm and video.
10:00 am - Roundtable Discussion "An Introduction to Film Festivals in the U.S."
This discussion was consecutively translated by an embassy-provided translator. This was my first chance to see and summarize the "What Is AFI?" document, to give listeners (graduate students and some professors) an overview to the work of AFI, before I began my talk in earnest. Then I gave my talk about the origin of film festivals in Europe, before talking about U.S. film festivals (with AFI FEST as a case study) and the changing face of film festivals and the exhibition of independent film. The questions were lively and articulate.
11:45 am - Lunch hosted by BFA with leadership in attendance
This was a good chance to continue learning about the BFA, and also to talk to Xie Fei about the BFA International Student Film and Video Festival, which takes place in November (It overlaps with AFI FEST, actually.). We resolved that we should alert AFI fellows about this opportunity. The program guide, and number of countries represented in the festival is quite impressive.
1:30 pm - Proceeded to Tsinghua University
2:00 pm - Lecture "What is Independent Film and an Introduction to Film Festivals in the United States"
The audience here was mostly journalism graduate students--very smart and perceptive, with a comparatively decent grasp of English (although questions in English were always written down then read in halting English). The lecture is really about what the expression "independent" really means in today's film industry, how the meaning has changed in the last twenty years, and how the term means different things to different people. One student asked me if I was "ashamed" as an American that MGM--the studio that brought us the American classic Gone with the Wind, among many others--was now owned by Sony, a Japanese company. I responded that Hollywood as an industry had been multinational for quite a while, with Japan and Germany being particularly big players in this regard. What a question!
4:00 pm - Lecture concluded
Tuesday, April 19
8:45 am - Met in Lobby, proceed to American Center for Educational Exchange (ACEE), a center run by the American embassy
9:30 am - Lecture/Discussion "The History of Censorship in American Film and TV," led by Dr. Irby Brown, with contributions by Christian Gaines
This was a chance for me to listen to Dr. Brown's fascinating talk, and also to hear some very interesting and well-postured questions. The crowd found it hard to grasp that there could exist an organization like the Motion Picture Association of America--an industry trade group that supposedly polices itself. How is this "volunteer" ratings system enforced? Who is "punished" if a minor enters an R- rated film--the minor, the studio, or the theatre itself? What are the penalties? To these people, it is hard to distinguish between "law" and "guideline." Even though censorship certainly existed in the US under the Breen and Hays codes, most of this censorship existed around sexual and violent content and the ratings system today exists as a guide for parents, mostly. In China, censorship is routine on political, social, and religious grounds as well. There is talk that the government (who else) may be introducing a ratings system in a year or so, but no one knows any details about its structure, and, unlike the U.S. system, a Chinese ratings system most certainly will not take the place of censorship.
Met some very interesting people at this lecture series at the ACEE, including Elane Xu, a reporter with Variety China, Guo Zhong, Government Relations Manager with Disney China, Jikang Liu, Chief Representative with Sony Pictures Entertainment-China, Wang Rui, Research Professor and Fulbright Scholar with the China Film Archive, Angus McNelis, the Head of Asia Operations for the Slamdance Film Festival (and a Vassar graduate).
11:30 am - Lecture concluded
1:30 pm - Proceeded to Chinese Academy of Drama (CAD)
2:00 pm - Lecture "What is Independent Film and an Introduction to Film Festivals in the United States" from Christian Gaines and "The History of Censorship in American Film and TV" from Dr. Irby Brown
This lecture saw Dr. Brown and I each deliver an hour on our respective topics. These were mostly undergraduate students, and as is typical in these situations, some students were into it and asked great questions, and some fidgeted and giggled. What can you do?
4:00 pm - Program concluded
6:00 pm - Dinner with General Manager of Guangcai Investment Group Mr. Ling Li, Producer Mr. Jiang Yang, and Rose Nan-Ping Chen
This dinner was arranged following a conversation between Rose and one of the filmmakers at our first engagement at the Hart Center. This delegation of four, joined by Rose, Dr. Brown, and myself, represented an investment company which has done extremely well in China's new economy. They recently finished production on a brand new feature film. (They used Zhang Yimou's cinematographer and other crème de la crème of Chinese film industry.) The film is in post currently.
Most interestingly, they are very keen to develop a chain of theatres in China--targeting the secondary market (secondary Chinese cities and the new middle class--now some 250 million strong). Exhibition in China is still very much relegated to the big cities and because it is expensive (sometimes as much as $10.00 for a ticket, depending on the film, surprisingly), it is purely in the realm of the rich, and then only for special occasions. Mr. Ling Li's concept is for "destination" style theatres--not dissimilar to the ArcLight model, at all, the idea being to actually create the market by developing and marketing the concept and the brand. We talked at length (simultaneously translated) about AFI's exhibition experience, about ArcLight, etc., and it's possible that Mr. Li and a delegation will come to AFI FEST, if not before, to look at theatres and have AFM meetings. It's possible for some AFI involvement here--both in terms of exporting the AFI brand through AFI programmed film strands in these theatres, as well as some sort of short term consulting possibilities. Rose is in touch with them, and is keeping me posted on this one.
Wednesday, April 20
Morning - Travel to Shanghai
Afternoon – Sightseeing in Shanghai
Thursday, April 21
9:30 am - Met by Program Officer Peter Cuthbert with American Consulate General, Shanghai
10:00 am - Interview with HJ English, an online English Language learning website (500,000 subscribers)
I have since looked at this site, and it's all in Mandarin (even an English learning site), but the questions were interesting, and the interview enjoyable.
11:30 am - Lunch with Mr. Kane Yu, Director of International Relations at Shanghai International Film Festival (SIFF), Jessica Wu Fang, International Relations, Mickey Zhang, Director of International Relations at the Shanghai TV Market, Peter Cuthbert, Jennifer Galt, Public Affairs Officer, Li Qian, Program Assistant, Dr. Irby Brown, and Rose Nan-Ping Chen
Officials from the SIFF were gracious to meet with me so soon before their film festival, which launches in June. They were reeling somewhat from a Variety article which claims that they have been "downgraded" as a national event by the China Film Bureau. We addressed many items, including the FIAPF designation issue, and many other issues common to film festivals around the world. Hugo Shong and IDG work closely with SIFF, and Variety China has recently established a three year media trade deal with them.
1:30 pm - Proceed to Shanghai Theatre Academy
2:00 pm - Lecture "The History of Modern Drama in the U.S." by Dr. Brown and "What is Independent Film?" by Christian Gaines
An enjoyable lecture--it was such a pleasure to conduct these lectures with Dr. Brown. We are considering going on world tour together (just kidding).
4:00 pm - Program concludes
4:30 pm - Press interview with China Youth Daily
It's always interesting being interviewed by two bright young people from the Communist Youth League. They seemed really interested in censorship and ratings in the United States, as well as the comparative success of Stephen Chow's Kung Fu Hustle in both China and the United States--something that rarely happens with Chinese films. Chinese filmmakers seem constantly suspicious that Chinese filmmakers are making films specifically "for western audiences." The notion that audiences (American, European, or otherwise) might embrace a film purely on its own merits--with a compelling story and characters, regardless of its cultural identity--is very difficult for the Chinese to grasp, because everything is rooted in cultural identity. Once a film is made, it is assumed that it must represent and symbolize something about China. Can you imagine American filmmakers assuming that their films must represent something culturally?
6:00 pm - Public Affairs Section's Film Night and lecture viewing of A Streetcar Named Desire
This was another opportunity for me to moderate the Tennessee Williams expert, Dr. Irby Brown, in a lively discussion following a screening of this classic before an audience who mostly were learning English as a second language. It was very enjoyable, but following this long day, we were getting tired.
8:30 pm - Conclude
It was a marvelous trip. In addition to these meetings and lectures, we got in some sightseeing, including the Forbidden City, Great Wall (which is an astonishing experience), Temple of Heaven, Central Market, and other spots. Also the food was marvelous, especially the Peking Duck! Yum!
Christian Gaines