China Exchange Program 2005 Participant Irby Brown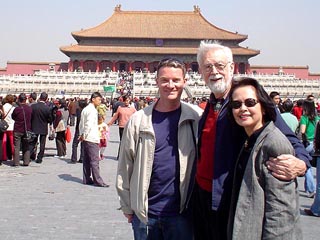 During the month from April 13 to May 13, The Rose Group successfully completed its initial offerings to the publics of Shanghai and Beijing. More than a year of careful planning, under the leadership of Rose Nan-Ping Chen, and with the full cooperation of several boards and committees preceded the busy days in China.
The timing was propitious, in at least two respects. First, 2005 is being celebrated as the birth of cinema in China and hence is a time of retrospection and a look into the future of the art of the movies. Second, China is emerging as a major force in the global marketplace, which is usually defined in terms of politics, social progress or problems, and especially economics. It is up to a minority, working assiduously, to make sure that in the rush towards economic expansion the aesthetic and moral dimensions are not left behind. In the long run it may be said that the arts play the most important role in a society's human stature.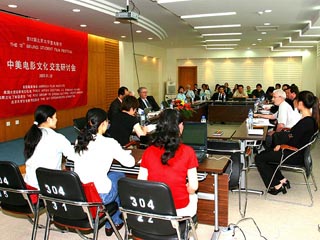 Of course, partnerships define our success, and ours have been impressive: the American Film Institute, Virginia Film Office, Virginia Foundation for the Humanities, University of Richmond, and Virginia Commonwealth University. Hosts and events planners are partners also, and those in China included the U.S. Speaker Program Office in Beijing, American Center for Cultural Exchange, Beijing Film Academy (BFA), Tsinghua University, office of the U.S. Consulate General in Shanghai, Shanghai Theatre Academy, and International School of Beijing.
A key component as we visited those institutions were lectures, question and answer sessions, and several press interviews provided by Christian Gaines of the American Film Institute (AFI) and Irby Brown as the chair of the Advisory Committee. Our audiences were students (undergraduate and graduate), professors, and journalists (including several who interviewed us for publication online and in print). Subjects for these occasions included "Censorship in American Film and TV," "Independent Films," "Film Festivals around the World," and "The History of Modern Drama in the U.S."
The country being China, the rituals of lunch and dinner were often occasions of great importance, as on April 18, when several dignitaries, including the president of the BFA and the much honored director/teacher Xie Fei, entertained us at a luncheon, during which we exchanged ideas and tentative plans for future cooperation. Another occurred on April 21, hosted by PAO Jennifer Galt, with three guests from the Shanghai Film Festival, including their Director of International Cooperation, Mr. Yu Kai. A tangible result of the Shanghai luncheon was an invitation to the AFI to take a leading role in the festival in Shanghai in June. The most ambitious, and no doubt productive of social occasions, was the dinner party on May 8 for some seventy invited guests, the American and Chinese leaders of their organizations in China, at a dinner party hosted by The Rose Group, at which time presentations and introductions were made and the bonds of friendship among Chinese and American authorities celebrated.
From the time we were officially welcomed during the opening ceremonies of the Beijing Student Film Festival (BSFF) until the concluding panel discussion on American film and culture, we were critically involved in a myriad of activities. Central to these were film screenings and discussions. The first category was five feature films, presented at the BSFF on three successive nights, on the large screen, 35-mm prints, before an enthusiastic audience of 800 to 1,000. Chosen by students, filmmakers, and instructors were Gone With the Wind, Fargo, Pulp Fiction, Easy Rider, and Taxi Driver. More time for discussion would have been preferable, but tight scheduling is the way of film festivals, and the audiences were certainly receptive.
The second category of film screenings were those by the young filmmakers from America who had won the first prizes awarded by The Rose Group. Kit Hui, Tony Mosher, and Caryn Waechter were present in Beijing during the week before the close, and their films were screened twice. They also took part in the discussion sessions after the five American feature films mentioned above. They, along with producer Mitch Larson, were first-rate ambassadors for the intercultural aims of The Rose Group.
As the reader can see, April 13 to May 13 was a busy month for our cultural exchange program and the initial span of our bridge was built with a great deal of care and, gratifyingly, success. The second span will be built in Richmond, Virginia, USA, on October 6 to October 9, 2005. Although program plans are already burgeoning to the degree that might demand other programs during the year before Beijing re-occurs in April 2006.
A list of these highlights in China follows:
We were honored guests at the opening of the BSFF on April 14. It was here that we later showed our competition-winning films and the five Hollywood films chosen by Chinese scholars, students, filmmakers, and journalists.
The American Center for Cultural Exchange in Beijing hosted meals and lectures by Christian Gaines and Irby Brown.
In Shanghai, the American Consulate provided meals, lodging, and several academic venues for lectures by Christian Gaines and Irby Brown.
Daily parties, luncheons, dinners, small and large groups at social occasions, afforded excellent and fruitful opportunities for dialogue and promising plans for further cultural interchanges. As previously mentioned, there is great importance attached to the background of the 100th anniversary of film production in China and the emerging importance of China as a global economic and political force. These two are a potent mixture rather than separate items, because a film, in addition to its aesthetic dimensions, has its ambassadorial function as a cultural and even political statement.
Christian Gaines, Director of Festivals for the AFI, spoke in Shanghai as well as in Beijing.
During the final week, our emphasis was on our competition winners, showing their films twice, introducing the five American films, meeting other student filmmakers and being introduced to the film scene in Beijing. Kit Hui left Beijing for Cannes, where her film was being honored.
One of our important functions was introducing groups and individuals in China to each other. The most notable, perhaps, was the American Center for Educational Exchange becoming aware of the BFA as the chief force behind the training of several generations of film directors, including those who are becoming known in the West.
A list of formal programs follows:
U.S. Speaker Program Office, April 18, "An Introduction to Film Festivals and Film Industries in the U.S.," a lecture given in the morning by Christian Gaines to lecturers and professors from BFA and then in the afternoon to graduate students and faculties at Tsinghua University. Sponsoring hosts: PAO Don Bishop, CAO Robert Laing, Cultural Program Assistant Kris Sauer, Assistant Cultural Affairs Officer Darrell Jenks, Program Assistant Pan Haiyan, Irby Brown and Christian Gaines on Independent Films and Film Festivals, in their Voluntary Speakers Program.
April 19, U.S. Speaker Program Office, "The History of Censorship in American Film and Television," speaker Irby Brown, to audience of academics, journalists, and artists. In afternoon, speakers Brown and Gaines, "An Introduction to the Film Festivals, Independent Filmmaking and Censorship of Film and TV in the United States," to audience of graduate students and faculties.
April 21, U.S. Consulate General Shanghai, Public Affairs Section. Peter Cuthbert, Program Officer, arranged two press interviews: one with an online English language learning website, the other with print media.
April 21, Shanghai, "The History of Modern Drama in the U.S." by Irby Brown and "What is Independent Film" by Christian Gaines, to students and others at Shanghai Theatre Academy. Hosts: Mr. Cuthbert and Program Assistant Li Qian were hosts.
April 21, Lecture and question and answer session by Brown and Gaines and viewing of A Streetcar Named Desire, as part of the Public Affairs Section's film series in Shanghai.
There were two important luncheons on those two dates above:
April 18, dignitaries from the BFA, including the President and Professor Xie Fei (famous director and former Vice President of BFA).
April 21, host PAO Jennifer Galt and three guests from Shanghai Film Festival Office, including their Director of International Cooperation, Mr. Yu Kai.
One of the most important occasions was held near the end of our official visit to Beijing, and that was our attendance at a panel discussion on "American Film and Culture," co-hosted by the BSFF and U.S. Embassy in Beijing. Mr. Don Bishop and Mr. Robert Laing of the American Embassy presided. Subjects for the three-hour panel were "Film and Culture in United States and China" and "Independent Filmmaking." Participants included representatives from the International School of Beijing, the Slamdance Film Festival, Beijing Normal University, Sony Pictures, Columbia Tri-Star, and Peking University.
Irby Brown