The Second Annual China-America Festival of Film and Culture, September 25-October 1, 2006
All our programs are open to the public and free of charge, unless otherwise indicated.
Monday, September 25
Documenting Old China 6:30 to 8:30 pm, Jepson Hall, University of Richmond (UR). First of a three-part course explores the history and culture of China: screening of documentary films about China in the first-half of the 20th Century. Sponsored by the Osher Lifelong Learning Institute at UR. Open to the public, please call 804-287-6344 or 804-287-6608 for reservations.
Wednesday, September 27
China -Japan Relations: Multiple Perspectives 2:45 to 4:30 pm, Jepson Hall, UR. Presented by Dr. Vincent Wang, Associate Professor of Political Sciences and Coordinator of International Studies. Open to the public
Exploring the China of Today 6:30 to 8:30 pm, Jepson Hall, UR. Second of a three-part course provides first-hand accounts of travel in China. Panelists: David Bearinger, Director of Grants & Public Programs at Virginia Foundation for the Humanities (VFH); Dean King, best-selling author; Sue Robertson, Teacher of World History at Henrico County public schools (retired) , recipient of Excellence in Teaching award. Moderated by Rose Chen, President of The Rose Group for Cross-Cultural Understanding. Sponsored by the Osher Lifelong Learning Institute at UR. Open to the public, please call 804-287-6344 or 804-287-6608 for reservations.
Thursday, September 28
The Breath of a Wok 11 am to 1:00 pm, Founders Room, VCU Siegel Center at 1200 W. Broad Street. Cooking demonstration and lecture presented by internationally renowned cookbook author, Grace Young. Food tasting, recipe sharing and book signing. Moderated by Cathy Hinton, food stylist/consultant. Advance ticket $30 (includes free parking at Bowe Street Parking Deck, west of the Siegel Center), $35 at door. Call 804-285-7408 for information. Co-sponsored by Peking Restaurant & the Richmond Culinary Guild.
Opening Ceremony 7:00 to 7:30 pm, Jepson Hall, Room 118, UR. Welcome remarks. Performance of multi-cultural songs by Greater Richmond Children's Choir, directed by Hope Armstrong Erb.
The Good Earth, Film Screening 7:30 pm, Jepson Hall, Room 118, UR. Based on Pearl S. Buck's novel by the same name, The Good Earth is a depression era film set in China. A communist revolution set amidst a drought and locust plague makes life for rural farmer Wang Lung a constant challenge. Times are hard and Wang Lung struggles mightily to provide for his family. Through his struggles he finds that happiness is still attainable with the love for his land and his faithful wife O-lan. Audiences will find this film an enjoyable experience and the message of this modern classic timeless. 140 minutes
Friday, September 29
China in Transition 12:00 to 3:00 pm, Student Commons Theater, VCU The World, Film screening for multiple classes for interdisciplinary discussion led organized by Dr. Weiping Wu, Associate Professor of Urban Studies and Planning with Assistant Professors Jérôme Cornette and Julián Daniel Gutiérrez-Albilla to lead and moderate the screening. Open to the public.
The Good Earth, Film Screening 3:00 pm, Adams Auditorium, UR, 140 minutes.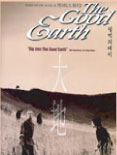 The Good Earth: From Page to Screen 6:30 to 8:30 pm, Jepson Hall, UR. Third of a three-part course features a panel discussion about the book and its film adaptation. Moderated by Dr. Irby Brown, Professor of English, Emeritus, UR with panelists: Dr. Elizabeth Lipscomb, Thoresen Professor of English, Emerita, and Dr. Jennifer L. Gauthier, Assistant Professor of Communication Studies, both from Randolph-Macon Woman's College, alma mater of Pearl S. Buck. Sponsored by the Osher Lifelong Learning Institute at UR. Open to the public, please call 804-287-6344 or 804-287-6608 for reservations.
Saturday, September 30
Chinese Film Screenings, Byrd Theater in Carytown. Subtitled in English. Tickets are available at the door, and are $3 for Ding Jung Shan and Kekexili: Mountain Patrol, and $1 for animation film Little Tiger Banban.
Ding Jung Shan 11:00 am to 1:00 pm. The film depicts how China's first indigenous film, Ding Jun Shan which recorded the performance of the famous Beijing Opera singer Tan Xinpei, was made in 1905. It uses historic footage from the original as well as portrays the life in Beijing one hundred years ago. Directed by An Zhanjun. 105 minutes.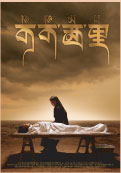 Kekexili: Mountain Patrol 1:30 to 3:30 pm, Winner at the Berlin and Tokyo International Film Festivals. Tibetan patrols face death to save the endangered antelopes whose wool is highly prized by the western fashion world. Based on a true story, rare glimpses into the most desolate region on earth, Kekexili, with spectacular cinematography. Written and directed by Lu Chuan. 90 minutes. A taped interview of the film's director will be shown.
Little Tiger Banban 3:30 to 5:00 pm, This popular Chinese animation chronicles the adventures of Banban, a little cloth tiger, who is responsible for the safe return of the fairy water that has the power to save the forest. Along the way, he faces his own doubts and defeats as well as the scary Garbage Monster. With the help and enlightenment from Grandpa Land, will Banban succeed?
Scintillating Strings: Music of the Pipa and the Harp 7:00 to 8:10 pm, Camp Concert Hall, Modlin Center for the Arts, UR. Performances by Chinese pipa player Xiao-Fen Min and harpists from American Youth Harp Ensemble, led by Artistic & Music Director Lynnelle Ediger- Kordzaia. With commentary on East-West music making by Dr. Joanne Kong, Department of Music, UR. Admission $10. Call (804) 289-8980 for tickets or buy online at http://modlin.richmond.edu. Co-Sponsored by Organization of Chinese Americans-Central Virginia Chapter.
Award Ceremony 8:10 to 8:30 pm., immediately after the concert. Presentations to the winners of the Mandarin Oratory Contest, Beyond the Great Wall: Snapshots from China photo contest as well as recognition of volunteers and committee members.
Sunday, October 1
Keynote Lecture: The Rise of China: Implications for the United States. 1:00 to 3:00 pm, VCU Student Commons Theater. Presented by Dr. Harry Harding, University Professor of International Affairs, George Washington University. Open to the public. The e-mail message sent earlier.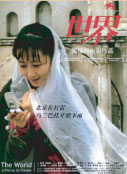 The World, Film Screening 4:00 pm, Jepson Hall Room 118, UR. The World is set in a Beijing theme park that contains replicas of landmarks from around the world. Most of the characters come to Beijing from remote provincial communities out of financial necessity and work in the park in various capacities. The film is a story of relationships and love triangles of the interwoven lives of these people living in a replica of the world. The film's irony comes from the fact that the characters who constantly "travel" from country to country in their replica of the world have actually seen very little of the real world. Directed by Jia Zhang Ke, 143 minutes.
Special Features:
Pearl Buck in Print and Film: On view September 21-October 6 on second floor of Boatwright Memorial Library, University of Richmond. Three exhibit cases of first editions, manuscripts, photos, and letters from holdings at UR and on loan from Randolph-Macon Woman's College, the Nobel Prize-winning author's alma mater and custodian of her papers.
Mandarin Oratory Competition Friday, September 22 from 5:30 to 7:30 pm, Tyler Haynes Commons Room #313, UR. Students from UR, VCU and three area Chinese schools will compete for honor and prizes in the categories of heritage-speaker and non-heritage speaker. Chaired by Rose Tan, Director of Chinese Language Programs, Department of Modern Literatures and Cultures.
Beyond the Great Wall: Snapshots from China This competition is open to those who have visited China and wish to share interesting and unique photographs about their experiences. For details, visit www.theROSEgroup.org/CAFFC or send e-mail to filmandphoto@richmond.edu. The deadline for submission is September 18. Chaired by Jonathan Helm and sponsored by UR Film and Photography Club. Winning entries will be on display in the Tyler Haynes Commons and Barnes & Noble Bookstore at Libbie & Broad Streets from September 23 through October 1.
Festival Kick-off Celebration 10:00 am to 4:00 pm, Saturday, September 23 at Barnes and Noble Bookstore ( Libbie & Broad Streets). Browse the display of many China-related books, DVDs and CDs, view the winning entries of our China-travel photo contest, and enjoy the singing of Greater Richmond Children's Choir (GRCC). Purchase with voucher designated to The Rose Group will benefit both The Rose Group and GRCC.
Teachers' Workshop (visit worldstudies.vcu.edu for details) is organized by the School of World Studies at VCU and Education and Outreach Division at the Virginia Museum of Fine Arts, in conjunction with China-America Festival of Film and Culture. On Saturday, September 30, the workshop will provide the teachers with the opportunity to view Chinese films, and take part in discussions related to contemporary life and culture in China. On Sunday, October 1, participants will gather at VCU for classroom sessions. The workshop's content is designed to be relevant to Virginia's Standards of Learning. As part of the workshop, the Keynote Lecture on Sunday will be open to the public.