CAFFC-Festival 2005, October 5-9 in Richmond, VA
Program Schedule
WEDNESDAY, OCTOBER 5
Evening With Rose: Understanding China from a Cross-Cultural Perspective
Lecture and Reception, 6:30 to 8:30 pm, University of Richmond (UR), Rose Nan-Ping Chen, Founder of The Rose Group for Cross-Cultural Understanding. Ms. Chen's remarks will focus on two key questions: Where is China going? What should our relations be with China? Sponsored by Osher Lifelong Learning Institute at UR, please call 804-287-6344 or 804-287-6608 for reservations.

THURSDAY, OCTOBER 6
Contemporary China Through Film 3:00 to 5:00 pm, Tyler-Haynes Commons, Room 313, UR, hosted by Dr. Vincent Wang, Associate Professor of Political Sciences and Coordinator of International Studies at UR. Award-winning filmmaker and Senior Producer of "News Probe" Hu Jing Cao from CCTV 1, the flagship TV Network in China, will discuss her works as well as opportunities and restrictions a journalist faces in China today. A short documentary film will be shown, followed by discussion.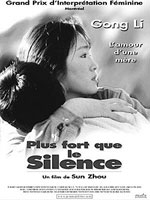 Video Art in China 2:30 to 5:00 pm, Arts Foundation Building, Room 535, Visiting Artists Lecture Series in the VCU School of the Arts. Presented by Mr. Shulin Zhao, Director/Curator of the Contemporary Art Center and Today Art Museum, Beijing and Mr. Huang Yan, Video Artist.
Opening Ceremony and Reception 7:00 to 7:30 pm, Jepson Hall, UR.
Film Screening: Breaking The Silence 7:30 pm, Jepson Hall, Room 118, UR. Gong Li (Raise the Red Lantern, Ju Dou) stars in this family drama about an impoverished single mother who will do anything to provide for her son. 91 minutes.
FRIDAY, OCTOBER 7
Touch of the Brush: The Art of Chinese Calligraphy Lecture and Demonstration. 1:30 to 2:30 pm, Lora Robins Gallery of Design From Nature, UR, Stephen Addiss, Tucker-Boatwright Professor in the Humanities and Professor of Art History at UR.
Film screening: Pretty Big Feet 3:00 pm, Adams Auditorium, Boatwright Memorial Library, UR. Yang Yazhou's drama Pretty Big Feet is about a pair of very different women who become friends. 103 minutes.
Screening of a Collection of Video Art from China 3:00 to 5:00 pm, VCU School of the Arts, Sota Gallery. Presented by Mr. Shulin Zhao, Director/Curator of the Contemporary Art Center and Today Art Museum, Beijing and Mr. Huang Yan, Video Artist.
Symbolism and Hidden Meanings in Chinese Arts Lecture 6:30 to 7:30 pm, Weinstein Hall, Brown-Alley Room, UR, The Honorable Sally Yu Leung, Commissioner, San Francisco Asian Art Museum and independent curator and lecturer of Chinese arts and culture.
Chinese Arts at University of Richmond Reception and viewing of the exhibits from 7:45 to 9:00 pm at Lora Robins Gallery, UR. Traditions in Miniature: The Louise Westbrook Collection of Chinese Ceramics features miniature ceramic artworks dated between 3,000 B.C. and 1911 A.D and Touch of the Brush: The Art of Chinese Calligraphy. Reception is sponsored by Organization of Chinese Americans-Central Virginia Chapter.
SATURDAY, OCTOBER 8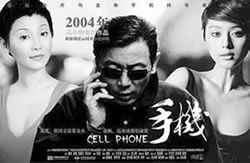 Chinese Film Screenings, Byrd Theatre in Carytown. Subtitled in English, followed by filmed interview with directors. Ticket $2 per screening, available at the door.
Postmen in the Mountains 11:00 am to 1 pm. Directed by Huo JianQi, People's Choice Award at Montreal Film Festival and Golden Rooster Best Film Award. A journey taken by the retired postman and his son, through the rugged mountains in China's southeastern Hunan province, reveals more than the beautiful scenery around them. 93 minutes.
Cell Phone 1:30 to 4 pm. Directed by Feng Xiaogang, starring Ge You and Zhang Guo Li, the film depicts a country boy who has made good in the big city, but whose cell phone gets him into all sorts of entangle-ments. 107 minutes.
Movie Magic 6:30 to 9:00 pm, Virginia House at 4301 Sulgrave Road. Come dressed in film costumes or in Chinese styled clothing. A cappella singing of film tunes by Chip Young from Positive Vibe Café, and performance by Greater Richmond Children's Choir. Reception sponsored by Virginia Film Office.
SUNDAY, OCTOBER 9
All events are held at The Robins Pavilion in the Jepson Alumni Center, UR
A Taste of China in the Old Dominion 11:00 am to 3:00 pm. This is a great chance to sample dishes using Virginia products, prepared by area chefs and inspired by Chinese cooking, a triple winner! Event is organized by Tuffy Stone from A Sharper Palate. A panel of "Foodies" will make their own "Iron Chef" styled comments at 12:30pm. Tickets are $10 in advance, $12 at the door. Call Cathy at 804-739-8639 for advance ticket purchase.
Short Film Showcase 11:30 am to 3:00 pm., Quigg Room. Screenings of award winning films from our inaugural competition as well as from Beijing Film Academy, "Boy Students": historic story of 120 young Chinese boys coming to America to receive western education in the years of 1872-1875, and a documentary film about ancient Tang Culture, produced by Dr. Chung Wen Shih, Professor Emeritus at George Washington University.
American Audiences, Chinese Films 3:00 to 4:00 pm. Distinguished panelists from China and the U.S. will use film clips to illustrate ways of initiating audiences into the unique world of Chinese cinema.
Closing Ceremony and Awards Presentation 4:15 to 5:00 pm
Film Screening: Together 7:30 pm, Jepson Hall, Room 118, UR. Film director Chen Kaige(Temptress Moon, Farewell My Concubine) is considered to be one of China's most prominent and influential directors, and a central figure in China's Fifth Generation of filmmakers. Together is based on a true story of an adolescent violin prodigy coming of age in Beijing. 118 minutes.
Talent Search
Mandarin Oratory Competition Saturday October 1 at 11:00 am, Jepson Hall, Room 118, UR. Students from UR, VCU and three area Chinese schools will compete for honor and prizes. Competition organized by Rose Tan, Director of Chinese Language Program at UR. Winners will be recognized on October 9 at the Closing Award Ceremony
Beyond the Great Wall: Snapshots from China Enter our photo contest to share your experience as well as to win prizes. For details, log on www.theROSEgroup.org/ CAFFC/. Anyone has traveled to China is eligible to enter. Deadline for submission is September 23. Organized by Jonathan Helm and UR Film and Photography Club. Selected entries will be on display in the Tyler Haynes Commons on October 5-8, and at Festival site on Sunday October 9.
Greater Richmond Children's Choir will perform Chinese songs and film tunes at Opening Ceremony on October 6 at 7:00 pm, at Movie Magic on Oct 8 at 7:00 pm, and at A Taste of China in the Old Dominion on Oct 9 at 1:00 pm.
Chip Young from Positive Vibe Café, a training ground for people with disability, will perform on Saturday October 8 at 7:45 pm and on Sunday October 9 at 1:45 pm.

China-Related Programs on Campuses and other venues
September 28, 8:00 p.m. at Plant Zero Art Center. The Richmond Moving Image Co-op will screen Kit Hui's "Missing," one of the winning short films in the inaugural China-America Festival of Film and Culture, as part of Flicker, a bi-monthly screening of short films by Richmond area filmmakers. Admission ticket $3.
Chairman Mao's Perception of the United States Wednesday, October 5, 3:30 to 4:30 pm, VCU School of Engineering, Room 106. Chinese History and Culture Lecture Series, Professor Guangyao Jin, Professor of History, Fudan University.
China's Transition Captured by Video Artists Thursday, October 6, 11:00 am to 12:15 pm in VCU Honors Program Multi-purpose Room. China in Transition-Special guest lecture, Professor Weiping Wu, Professor of VCU School of World Studies.
October 6, 2:15 to 3:30 pm, Award-winning filmmaker Christine Choy, Chair of Graduate Film and TV Department at NYU will be at Professor Stephen Addiss' Freshmen "Core" class.
Oct 7, 8:00-9:00 am, Filmmaker Christine Choy will discuss her documentary Sparrow Village with Professor Abigail Cheever's upper-level course on women's films and popular feminism.
October 7, 7:00 pm at Ashland Theater, Preview of Micha Peled's China Blue. Fund-raiser for Ashland Main Street Plaza Project, tickets $10. October 10, Professor Reber Dunkel at Randolph -Macon College will lead a classroom discussion about the film.