2005 American delegation to China
We are very successful with the first part of our inaugural effort of cultural exchange via films. In April and May of 2005, we invited three award-winning filmmakers, a film scholar, and a representative from the American Film Institute (AFI) to Beijing and Shanghai for dialogues with their Chinese counterparts. Their testimonials, detailed description of the program, and photo essays can be found at the new China-America Festival of Film and Culture (CAFFC) website.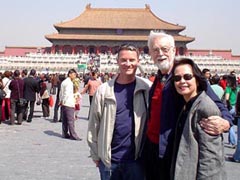 As a component of the bilateral exchange, in October 2005 we will have Chinese films, filmmakers, and scholars coming to Central Virginia for the first time. We are the very few stand-alone festival dedicated to China and its culture in the United States. We plan to offer an array of cultural events to the college students and the general public for them to gain insights into China, the emerging power on the world stage as well as a partner of increasing importance in U.S. national interest. Details can be found at the CAFFC website.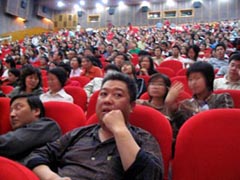 We have established working relationships with the AFI, American Embassy in Beijing, Beijing Normal University, Beijing Student Film Festival, Chinese Embassy in Washington, D.C., Tsinghua University School of Journalism and Communication, University of Richmond, Virginia Commonwealth University, Virginia Film Office, and Virginia Foundation for the Humanities. Our unique alliance of universities, film and media communities, and government agencies in both countries offer unprecedented access for all parties involved and creates new synergy and venues for meaningful communication and collaborations.