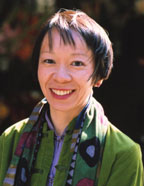 The Second Annual China-America Festival of Film and Culture
Presents
Grace Young
Internationally acclaimed
Cookbook Author and Food Writer.
The Breath of a Wok
Video/Lecture, Recipe demo, Food tasting & Book signing
THURS, SEPT 28, 11 am - 1 pm
Founders Room, VCU Siegel Center
1200 W.Broad St., Richmond, VA

Grace's books have won numerous international awards and she has been featured in the New York Times, CBS Sunday Morning, Good Morning America and Sara's Secrets. A favorite of many, she has taught Chinese cooking throughout the United States.
$30 advance tickets by September 18, at door $35 (includes free parking at VCU Bowe Street Parking Deck.) Call 804-285-7408 for information
Sponsored by THE ROSE GROUP, Peking Restaurant and Richmond Culinary Guild.
www.theRosegroup.org/caffc.