The Tenth Annual ChinaFest, January 2-3, February 12–15, 2015
All film screenings are co-sponsored with UR International Film Series.
Visit http://library.richmond.edu/mrc/international-film-series.html for film updates.
Festival Main Events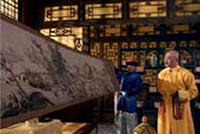 Friday, JANUARY 2
Giuseppe Castiglione in China:
Imperial Painter, Humble Servant
6:30 - 8:30 p.m., at Leslie Cheek Theater, VMFA
How did a young Jesuit missionary born in Italy end up in 1700s Imperial China as court painter to three emperors? The story of Giuseppe Castiglione is one of passion,conviction, and creativity; and his journey has left a longlasting impact in China and beyond.Father Jerry Martinson, executive producer of the film, has encountered similar challenges in his 48 years in Taiwan and China. Father Martinson relates his personal experiences in a cross-cultural dialogue with insights into the inner-workings of China in the 18th century and now. This film complements the Forbidden City special exhibition, which includes several of Castiglione's works, as well as the family event ChinaFest the following day on January 3.
$8 (VMFA members $5) http://vmfa.museum/calendar/
Click here to see the 3 min trailer.
Saturday, JANUARY 3


ChinaFest Family Day at VMFA




11:00 a.m. – 3 p.m. Free, no registration required


Celebrate longevity, the New Year, and treasures from the Forbidden City while exploring Chinese culture. Participate in a LEGO® reproduction of the Imperial Palace nine dragon screen and nine imperial treasure-making activities. Take in nine Chinese animated films for children, and be amazed by martial arts demonstrations. Also discover the Legend of the Chinese Dragon as Richmond Ballet's Minds In Motion Team XXL brings this folk tale to life through the magic of dance.

Photo credit: Briget Ganske © Virginia Museum of Fine Arts
Thursday, FEBRUARY 12
Slow, Simple & Selfless: What America and Contemporary China Can Learn From the Chinese Tradition. Reflections of an impressionable American after 30 years' engagement with China
7:00 -8:30 p.m., Ukrop Auditorium, The Robins School of Business, University of Richmond
Robert Daly, Director of the Kissinger Institute on China and the United States at the Woodrow Wilson Center. Mr. Daly has extensive working experience in China: served at the U.S. Embassy in Beijing in the late 1980s, worked on TV and theater projects in China as a host, actor, producer (Chinese version of Sesame Street) and commentator on Chinese affairs for radio programs and TV, such as the Voice of America, and CNN. He was American director of the Johns Hopkins University-Nanjing University Center for Chinese and American Studies in Nanjing, China for six years; and Director of Maryland-China Initiative at University of Maryland. He has interpreted for Chinese leaders, including former President Jiang Zemin, and American leaders, including Jimmy Carter, Henry Kissinger, and Zbignew Brzezinski.
Sunday, FEBRUARY 15
Collector's Talk and Tea Reception


1:30 - 3:30 p.m. Lora Robins Gallery of Design from Nature, University of Richmond Museums


Looking at Chinese Textiles and Ceramics from the Museum's Collection with Franklin B. Propert discussing Qing Dynasty textiles.

Chinese textile, late Qing Dynasty, silk and gold embroidery on silk, 30 x 133 inches, Lora Robins Gallery of Design from Nature, University of Richmond Museums, by transfer, R2014.03.01, photograph by Taylor Dabne
Film Screening Schedules
| | |
| --- | --- |
| Friday, Februa 13, 3:00 p.m. | Balzac and the Little Chinese Seamstress |
| Friday, February 13, 7:30 p.m. | The Mad Detective |
| Saturday, February 14, 10:30 a.m. | Romance of the Western Chamber |
| Saturday, February 14, 1:00 p.m. | Echoes of the Rainbow |
| Sunday, February 15, 7:30 p.m. | Bodyguards and Assassins |
Film Synopses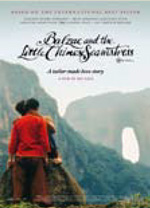 Balzac and the Little Chinese Seamstress
Directed by Dai Sijie
China, 2005, 111 minutes
Dai Sijie directs Balzac et La Petite Tailleuse Chinoise (The Little Chinese Seamstress), a film adaptation of his own best-selling autobiographical novel. Set in China during the Cultural Revolution of the 1970s, the story follows Luo (Chen Kun) and Ma (Liu Ye), two young men from the city who are sent to a mountain village for a re-education in Maoist principles. They work with the peasants under the supervision of the village head man (Wang Shuangbao), who considers their violin to be a symbol of the bourgeoisie. Luo and Ma both fall in love with the little Chinese seamstress (Ziiou Xun), the daughter of the tailor (Chung Zhijun), and they read her forbidden works of Western literature including French writers Balzac and Dumas. The conclusion finds the two men reminincing about their experiences 30 years later. Balzac et La Petite Tailleuse Chinoise premiered at the 2002 Cannes Film Festival.
---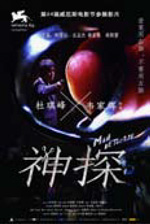 The Mad Detective
Directed by Johnny To and Wai Ka-fai
China/Hong Kong, 2007, 89 minutes
A psychotic ex-policeman with a mysterious supernatural gift proves invaluable in the case of a missing police firearm and its vanished owner in this tense police thriller from co-directors Johnny To (Fulltime Killer) and Wai Kafai (Running on Karma). Bun is an outcast detective who always seems to crack the case despite having some rather serious personality flaws. When Bun slices off his ear and offers it up as a gift at a party staged to honor one of his superiors, he is promptly forced into early retirement. As a policeman Bun's gift of second sight helped him to solve some of the department's most difficult cases, but now that the visions serve no purpose, they simply serve to erode his already fragile sense of reality. Yet despite Bun's bad reputation, ambitious inspector Ho (Andy On) still believes in him. Recently, Ho has been assigned the difficult case of a locating a missing policeman named Wong (Lee Kwok Lun), who disappeared after pursuing some suspects into the nearby mountains. While Bun is indeed eager to help out with the case, he soon finds his volatile personality clashing with the seven conflicting personalities of Wong's apparently schizophrenic partner Chi-wai (Lam Ka-tung) .
---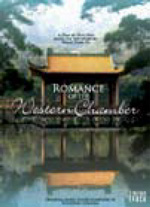 Romance of the Western Chamber
Directed by Hou Yao
China, 1927, 45 minutes, silent
A young scholar who has traveled to the capitol in order to take the highest imperial examination falls in love with the daughter of the Prime Minister during his stay at a local temple in director Hou Yao's adaptation of the famous play by Wang Shifu. Zhang Sheng has prepared himself to take the ultimate test, but when a group of bandits besiege the royal family's beautiful daughter Cui, the desperate mother pledges to marry Cui off to any man who successfully rescues her. Though Zhang eventually succeeds in the task, Cui's mother subsequently reneges on her promise citing that there is no way she will allow her daughter to wed an impoverished scholar. As a result the bond between Zhang and Cui only strengthens, and with a little assistance from Cui's loyal maid Hong Niang the couple is eventually able to shatter the traditional societal barriers that bind them. Professor Jessica Chan will make the introduction, followed by Q & A after screening.
---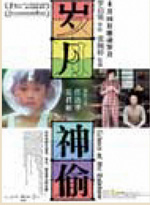 Echoes of the Rainbow
Directed by Alex Law
Hong Kong, 2009, 120 minutes
Writer and director Alex Law presents this warm drama of a family struggling to get by in the face of problems both big and small. It's 1969, and Desmond Law (Aarif Lee) is a sixteen-yearold who is the pride and joy of his working-class parents (Simon Yam and Sandra Ng); he's a top student and a gifted athlete, and his mother and father work hard to send him to a fine private school, even though it's no easy task on Dad's salary as a shoemaker. His eight-year-old brother, Big Ears (Buzz Chung), is the troublemaker in the household; he's a joker who doesn't get good grades, but he has a big imagination and with the upcoming moon landing in the news, his latest ambition is to be an astronaut. The family faces many challenges from typhoon, illness and Desmond's difficult relationship with a girl from a wealthy family (Evelyn Choi). Sui Yuet San Tau (aka Echoes of the Rainbow) won the Crystal Bear award at the 2010 Berlin International Film Festival. Professor Jessica Chan will make the introduction, followed by Q & A after screening.
---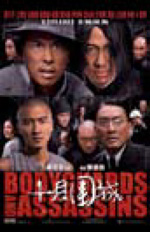 Bodyguards and Assassins
Directed by Teddy Chen,
China/Hong Kong, 2009, 138 minutes
A man is determined to stand up for his country despite the challenges of deadly adversaries in this action drama from director Teddy Chen. It's 1906, and as China begins to turn its back on the outside world and makes new demands of its people, a growing number of Chinese citizens are calling for democracy. The possibility of revolution does not sit well with Imperial Authority, and Sun Yat-sen (Hanyu Zhang), an popular activist calling for reform in China, has been forced to seek exile in nearby Hong Kong to protect himself. When Sun Yat-sen is invited by other freedom-loving Chinese patriot living in Hong Kong to take part in secret talks about the future of the nation, he and his fellow exiles are put into a tight spot. Imperial authorities want to silence Sun Yat-sen by assassination, and military commander Yan Xiaoguo (Hu Jun), his lieutenant Sa Zhenchan (Cung Le) and a regiment of soldiers skilled in martial arts are dispatched to find the underground leader and kill him. Now the Chinese expatriate community in Hong Kong must take sides -- do they ignore the crisis, or stand up to protect Sun Yat-sen in his moment of need? Among those who must decide where they stand are Chen Xiaobai (Tony Leung Ka-fai), an activist and journalist; Chen's financial backer Li Yuetang (Wang Xueqi); his teenage son Li Chungguang (Wang Bo-chieh); Yuet-yu (Fan Bingbing), Li Yuetang's "kept woman;" and Sum Chung-yang (Donnie Yen), her former husband.
ChinaFest 2015 Acknowledgements, with thanks to:
Our committee members for their devotion and hard work: Dr. Irby Brown, Co-Chair, Rose Nan-Ping Chen, Co-Chair, Cheryl Clark, Cathy Hinton, Kathryn Gray, Mary Nelson, Paul Porterfield, Franklin Propert, and Bertie Selvey.
Dr. Joseph Hoff and his team at the Office of International Education for its generous support in our keynote lecture, outreach to the Chinese students at UR, and at IFS.
Paul Porterfield for making our film component the success it has become.Professor Jessica Chan for her participation in our film discussion with the audiences.
Our programming partners for their behind-the scenes coordination and support: Peggy Watson of UR Osher Lifelong Learning Institute; Richard Waller at UR Museums; Jessica Bauserman, Celeste Fetta, Courtney Morano, Anna Bushman, Trent Nicholas, Kim Frola, and staff members of Art and Education Division and many others at the VMFA.
Our distinguished speakers for their outstanding scholarship and contributions. Our many presenters for sharing their time and talents.
Our deepest gratitude to all the contact persons, coordinators and volunteers who made ChinaFest truly a community effort.www.theROSEgroup.org

List of Supporters
The Tenth Annual ChinaFest is made possible by The Rose Group for Cross-Cultural Understanding; MeadWestvaco Foundation (MWV); County of Henrico; Dominion; The Anne Carter Robins & Walter R. Robins, Jr. Foundation; University of Richmond (UR); Virginia Museum of Fine Arts (VMFA); Virginia Film Office; Evergreen Enterprises; The Peachtree House Foundation; The Rock Foundation; and The Garland & Agnes Taylor Gray Foundation

In-kind donors: The Embassy of People's Republic of China in the U.S.in Washington, D.C.; Universal Leaf; Bill and Bertie Selvey.
Donor: Emily and Ed Hughes; US-China Peoples Friendship Association Richmond Chapter