The Seventh Annual ChinaFest, February 9-12, 2012
All events will be free of charge, and held in our new location at the Ukrop Auditorium within The Robins School of Business at the University of Richmond, except the Family Day which is held at VMFA. All film screenings are co-sponsored with UR International Film Series.
Festival Main Events
Thursday, February 9
Lecture: China and Emerging Corporate Social Responsibility (CSR)
7:00-8:30 pm, Ukrop Auditorium, The Robins School of Business,
University of Richmond ( UR).

Presented by William Valentino, a recognized expert on sustainability, social entrepreneurship, social innovation and CSR. His work and research centers mainly on China and includes collaborations internationally in a wide range of sectors at the forefront of these topics. His focus is responsible leadership and the role of business in society. He was Bayer's VP of CSR China and has lived in China for 24 years working for the company. Mr. Valentino also has established programs and gives lectures at premier universities, such as Tsinghua University in China and Harvard in the US.
Co-sponsored with Osher Lifelong Learning Institute at UR.
Friday, February 10
Film: Walking to School
3:00 pm, Ukrop Auditorium,The Robins School of Business, UR.
See synopsis on this page.
Film: Aftershock
7:30 pm, Ukrop Auditorium, The Robins School of Business, UR.
See synopsis on this page.
Saturday, February 11
Film: The Meaning of Tea
10:00 am, Ukrop Auditorium,The Robins School of Business, UR.
See synopsis on this page.
Film: Under the Hawthorne Tree
1:00 pm, Ukrop Auditorium,The Robins School of Business, UR.
See synopsis on this page.
ChinaFest Family Day
Saturday February 11, 1:00-4:00 pm
Come celebrate the Year of the Dragon with VMFA and explore the richness of Chinese culture. Enjoy hunting through VMFA galleries for Chinese Zodiac animals. Have your face painted with your own Chinese Zodiac sign. Visit with puppets and puppeteers from Shanghai. Make your own dragon puppets, Chinese rattles and clay fortune cookies. We are delighted to have two special performances at 1:30 pm and 3:00 pm by the acclaimed Shanghai Puppet Theater. The six-member group will fly directly from Shanghai for our ChinaFest. Don't miss it.
Co-sponsored with the Virginia Museum of Fine Arts.
Sunday, February 12
Film: Aftershock
7:30 pm, Ukrop Auditorium, The Robins School of Business, UR.
See synopsis on this page.
Film Synopses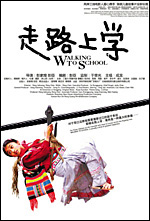 Walking to School
Directed by Peng Jiahuang and Peng Chen, 2009,
China, 87 minutes.
Wawa is a 7-year-old Lisu child who quite envies his
elder sister who can cross the river to go to school
while his mother insists that he cannot. One day, unable
to resist the temptation, Wawa secretly crosses
the river alone in order to get a glimpse of the
school. Unexpectedly, his secret is found by Miss Nie, and Wawa has to promise his mother and elder sister that he will
not secretly go to Liusuo by himself anymore. Taiwan cinematographer Li Yixu showcases the breathtaking local landscape: the scenes of protagonists suspended between steep ravines, with the raging river under their feet, are by turns hair-raising and visually stunning. The directors also balance tension with humor by juxtaposing Naxiang's matter-of-fact ease with the hysterical reactions of the doctor and new schoolteacher (Cao Xiwen) when they take their own virgin ride. Winner of multiple awards.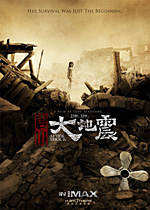 Aftershock
Directed by Feng Xiaogang, 2010, China, 128 minutes.
Two natural disasters frame a story of a mother, her children
and a painful decision that scars them forever in this
grand-scale drama from China. In 1976, Li Yuanni (Xu Fan) is
living in the city of Tangshan with her two children, sevenyear-
old twins Fang Da and Fang Deng. The family's life is simple but full of joy until a massive earthquake levels the city and leaves a swath of destruction in its wake. Amidst the wreckage, Li Yuanni discovers both Fang Da and Fang Deng are caught under a concrete slab, and if enough is broken to rescue one of the children, it would tip the balance and crush the other. Li Yuanni is asked which child should be saved, and she impulsively answers her son Fang Da. It's not until 2008 that the story of the mother and the daughter she lost comes full circle in the wake of another earthquake in Sichuan. A massive commercial success in China, Tang Shan Da Di Zhen (aka Aftershock) made its North American debut at the 2010 Toronto International Film Festival.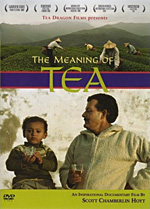 The Meaning of Tea
Directed by Scott Hoyt, 2008, USA, 75 minutes.
The Meaning of Tea is a documentary film that explores the calm andpurposeful life of tea. This inspiredjourney celebrates the history, rituals, spirituality and simple, pure enjoymentof this revered brew through the eyesof its admirers across the globe, from India to Ireland, from Taiwan to Japan, from Tea, South Dakota, to Morocco, England and France.
Along with poignant glimpses of the deeper character of tea, the film sheds light on its many varieties, medicinal effects, and practices and traditions that are often misunderstood, neglected, and even threatened by today's marketplace. The film will be followed by a Q&A session with Scott Hoyt, filmmaker, photographer, painter, tea connoisseur and director of The Meaning of Tea.
Mr. Hoyt's longtime interest in tea evolved as he studied various alternatives to orthodox modern medicine and learned that tea, and the enjoyment of tea, is one of the cornerstones of living a balanced life. Mr. Hoyt is on the board of directors for Global Learning Across Borders and a member of the Directors Circle for the American Botanical Council. He holds a BS and an MBA from New York University.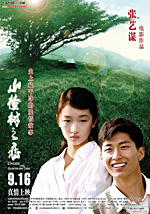 Under the Hawthorne Tree
Directed by Zhang Yimou, 2010, China/ Hong Kong, 114 minutes.
Zhang Yimou continueshis genre-hopping career reinvention
by following up his western remake A Woman, a Gun and a No odle Shop with Under the Hawthorn Tree. Based on a novel by Ai Mi, the film is a romantic drama set dur ing the Cul tural Revolution, focusing on the pure love and misfortunes of a young couple played by Shawn Dou and the gorgeous Zhou Dongyu. The film sees Zhang taking a simple story and enhancing it with genuine warmth, a keen eye for period detail and plenty of misty eyed emotion and nostalgia. The film was a top box office draw in China and won many awards.