The Sixth Annual ChinaFest, January 28&30, February 3-6, 2011
All events, except film screenings at VMFA and at Byrd Theater, will be free of charge
Festival Main Events
Friday, January 28
Film: The Drummer
3:00 pm & 7:30 pm, Jepson Hall, Room 118, UR
See synopsis on this page.
Sunday, January 30
Film: The Drummer
7:30 pm, Jepson Hall, Room 118, UR
See synopsis on this page.
Thursday, February 3
Fresh Views of China
7:00 - 8:30 pm, Jepson Hall, Room 118, UR
Personal observations of the country and its people, presented by a panel of close observers. Panelists: Dean King, novelist and historian, featuring his book on Chinese women and the Long March. Ting Xu, president, Evergreen Enterprises, a multinational company headquartered in Richmond. Moderator: Rose Nan-Ping Chen. Mr. King will sign copies of his book "Unbound," available for purchase after the program.
Co-sponsored with the Osher Lifelong Learning Institute at UR. Free and open to the public; registration required at www.osher.richmond.edu or call 287-6608.
Friday, February 4
Film: Last Train Home
3:00 pm & 7:30 pm, Jepson Hall, Room 118, UR
See synopsis on this page.
Film: Curse of the Golden Flower
6:30 – 9:00 pm, Leslie Cheek Theater, VMFA, Tickets $7 (VMFA members $5)
See synopsis on this page.
Saturday, February 5
Film: The I-Go King And His Son
10 am, Byrd Theater in Carytown, Ticket $3
See synopsis on this page.
Film: True Love (Jun Ai)
1:00 pm, Byrd Theater in Carytown. Ticket $3.
See synopsis on this page.
ChinaFest Family Day
1:00 – 4:00 pm, VMFA's new Art Education Center on level 1. Join us in celebrating the year of the Rabbit! Enjoy culturally-inspired art projects, storybook reading, fantastic face painting, Chinese-zodiac gallery hunt, games, prizes, and last but not least, visitors can participate in a traditional mini-parade. The event is free, no registration required. Co-sponsored with VMFA.
Sunday, February 6
Film: Last Train Home
7:30 pm, Jepson Hall, Room 118, UR
See synopsis on this page.
Film Synopses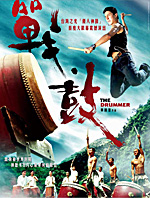 The Drummer
Taiwan/Hong Kong, directed by Gu Zhan, 119 min.
Sid, the rebellious son of Kwan, a controlling and savage triad boss in Hong Kong, has to flee to Taiwan upon enraging his father's adversary, a powerful tycoon and underground business leader. Hiding out in the mountains, Sid encounters a group of Zen drummers whose mesmerizing art, rigorous physical training, and austere way of life pique this hostile urban young man's interest and he requests to join the group. Although Sid despises his father, he is turning out to be a younger version of him: wild and defiant. Immersing in the world of the Zen drummers eventually converts him into a firm and focused young man. Sid's independence from the triad life and his father is profoundly challenged, however, when a twist of fate awaits him back home in Hong Kong and forces him to choose between loyalty to his family and his new found faith in himself …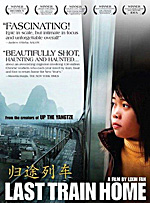 Last Train Home
China, 2009, directed by Lixan Fan, 87 min.
Every spring, China's cities are plunged into chaos as 130 million migrant workers journey to their home villages for the New Year's holiday. This mass exodus is the world's largest human migration—an epic spectacle that reveals a country tragically caught between its rural past and industrial future.
Working over several years in classic verité style Chinese-Canadian filmmaker Lixin Fan (with the producers, Mila Aung-Thwin and Daniel Cross, of the award-winning hit documentary Up the Yangtze) travels with one couple who have embarked on this annual trek for almost two decades. Like so many of China's rural poor, Zhang Changhua and Chen Suqin left behind their two infant children for grueling factory jobs. Their daughter Qin—now a restless and rebellious teenager—both bitterly resents their absence and longs for her own freedom away from school, much to the utter devastation of her parents. Emotionally engaging and starkly beautiful, Last Train Home's intimate observation of one fractured family sheds light on the human cost of China's ascendance as an economic superpower. "Beautifully shot, haunting and haunted... The New York Time"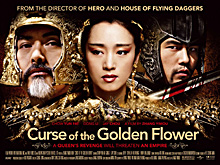 Curse of the Golden Flower
China, 2006, directed by Zhang Yimou, Starring Chow Yun-Fat, Gong Li, Jay Chou, 114 min.
Just two years before director Zhang Yimou dazzled the world with the fantastic 2008 Beijing Summer Olympics opening ceremonies in the Bird's Nest Stadium, he created this true cinematic spectacle. It is classic royal family intrigue that bursts from the big screen with a massive battle scenes and unforgettable explosions of color. A dying love between a powerful ruler and his wife leads to deceit, infidelity, and conspiracy in this epic-scale historical drama set during the latter days of the Tang dynasty.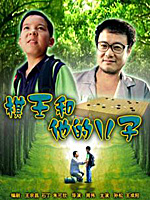 The I-Go King And His Son
China, 2007, directed by Wei Zhou, 95 min.
Liu Yishou, an amateur Go player, is called by his friends "the King of Go." Liu was been laid off quite a long time ago and now, with no other skills to make a living, teaches Go in a humble training school for children. Life has been hard and his wife has decided to divorce him. His young son Xiaochuan, has chosen to stay with him through his difficulties. On an unexpected occasion, Xiaochuan displayed an amazing talent for Go and his father vowed to support him to further develop his gift for the game. They confronted challenges, but with courage, persistence and profound love between father and son, they eventually arrived at the destination towards which they were heading.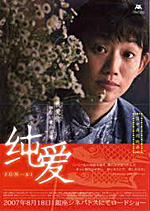 True Love (Jun Ai)
China, 2007, directed by Jiang Quinmen, 2007, 110, min.
The film begins in the summer of 1945 after the conclusion of World War ll. Most of the young Japanese who had gone to settle in China had been left there. The dreams that carried them to China had been crushed the moment Japan surrendered. Ai, Shunsuke, and other settlers were hanging in the balance of life and death as most Chinese villagers had lost loved ones to the Japanese military. Shanron and his aging mother help a Japanese couple, accepting them unconditionally into their home. This was the beginning of a friendship beyond borders, the start of a love worth risking one's life for. The film is not an attempt to show the tragedies of war, it is a true love story that is eternal despite the changes of time.