The Fifth Annual ChinaFest, February 18-21, 2010
All events, except for the screenings at Byrd Theater, are free of charge.
Festival Main Events
Thursday, February 18
Shanghai, China's Rising Global Cityg
7:00 - 8:30 p.m. Jepson Hall, Room 118, University of Richmond (UR)
This talk will outline the recent development of China's largest metropolis and the national and municipal policies that may determine Shanghai's pathway to becoming a global city.
Speaker: Dr. Weiping Wu, is a Professor in the programs of Urban Studies and Planning, and International Studies at Virginia Commonwealth University. She conducts research and publishes widely in the areas of urban economic geography, local innovation and university-industry linkage, migrant housing and settlement, and China's urban development. She received her Ph.D. in urban planning and policy development from Rutgers University, and has been a consultant to the World Bank.
Friday, February 19
Interpreting the Dao De Jing, Then and Now
10:00 - 11:30 a.m., Brown Alley Room, Weinstein Hall, UR

It is commonly noted that the Dao De Jing has been translated into English more often than any other literary text. Indeed, this Chinese text from the third century BCE has become a virtual classic of American "spirituality." This talk explores the incongruity of that gap in time and space. It focuses on the famous first line of the text, whose six graphs encapsulate much of the controversy about its American reception.
Speaker: Dr. Jane Geaney conducts research which focuses on conceptions of the body and language in early Chinese texts. She is currently writing a book on early Chinese ideas about writing and its relationship to speech. Her first book is about sense perception in early Chinese texts (On the Epistemology of the Senses in Early China, University of Hawaii Press, 2002). She received her Ph.D. from the University of Chicago.
Film: The Knot
3:00 p.m. & 7:30 p.m., Jepson Hall, Room 118, UR.
See synopsis on this page.
Saturday, February 20
Film: Jasmine Women
10:30 a.m., Byrd Theater, $3 admission.
See synopsis on this page.
Film: Ip Man
2:00 p.m., Byrd Theater, $3 admission.
See synopsis on this page.
Family Fun Day at VMFA
1:00 – 4:00 p.m., Pauley Center Building, FREE
See details on this page
Sunday, February 21
Film: In Love We Trust
7:30 p.m., Jepson Hall, Room 118, UR.
See synopsis on this page.
Film Synopses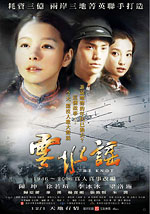 The Knot
China/Hong Kong/Taiwan, 2006, directed by Yin Li, 110 minutes
An unrequited love affair is played out against tumultuous events in Asian history in this epic-scale historical drama. Qiushui (Chen Kun) is a teacher living and working in Taipei in the mid-1940s. Qiushui meets Biyun (Vivian Hsu), a beautiful young woman from a wealthy family, when he's hired to tutor her. Qiushui and Biyun soon fall in love, but because of the turbulent situation in Taiwan, Qiushui flees to the mainland to escape persecution. Afterwards, the two are separated by the Straits. This film was the first co-production between China, Taiwan, and Hong Kong. It was released simultaneously in all three regions, and became a major box-office success.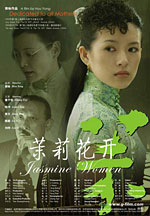 Jasmine Women
China, 2004, directed by Hou Yong, 130 min.
Jasmine Women is adapted from Su Tong's novel called Funü Shenghuo which means Women's Lives. It was directed by Hou Yong, a well known cinematographer. The film recounts the family of three generations of women, the mistakes they make, and a cycle that the granddaughter breaks out of. Reviewing the film at the Tokyo International Film Festival, Russell Edwards of Variety described it as a "tearjerker of the first order" and a "visual feast" and writes the film is "an impressive showcase" for actress Zhang Ziyi and Joan Chen "in multiple roles as daughters and mothers across three generations." The review further states the film is "a picture postcard, with the scenes set in pre-WWII Shanghai particularly impressive for its art direction."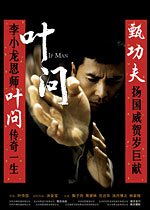 Ip Man
Hong Kong, 2008, directed by Wilson Yip, 105 min.
Behind every great man there lies a teacher, and this was certainly true of Bruce Lee, who claimed as his mentor a martial arts expert named Ip Man (1893-1972). A genius of Wushu (or the Chinese martial arts school), Ip Man grew up in a China nearly ripped to pieces by racial hatred, nationalistic strife and warfare. He rose like a phoenix above these ashes, however, courtesy of his participation in matches against various Wushu masters and kung-fu warriors - ultimately training martial arts icons such as Lee. This biopic from director Wilson Yip dramatizes Ip's life story. Ip Man was released theatrically in Hong Kong in December, 2008, receiving widespread acclaim from critics and audiences. Following its success, Ip Man was nominated for 12 Hong Kong film awards, then winning awards for Best Film and Best Action Choreography. A sequel titled Ip Man 2 is currently in post-production, and will be released in May 2010.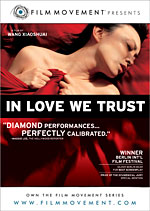 In Love We Trust
China, 2008, directed by Wang Xiaoshuai, 115 min.
A divorced couple learns that the only way to save their little daughter Hehe, who suffers from a blood disease, is to have another child. Now remarried, Mei Zhu and Xiao Lu are forced to test their love and their commitment to each other by putting their current relationships in danger. A story of parenthood, love, married life, betrayal, trust and giving, In Love We Trust, touches upon changes in contemporary society and family life, as well as the moral and ethical dilemmas brought on by modernity.
This film won the Silver Bear Award for Best Screenplay at the Berlin International Film Festival.
ChinaFest Family Day
Saturday, February 20
1:00 – 4:00 p,m., Pauley Center Building, FREE

Xin Nian Hao (新年好)…or Happy New Year! Join VMFA and help celebrate China's biggest event of the year! Children of all ages will be fascinated by the culture and traditions of this great civilization as they engage in
Magnificent Mask-Making
Designing Lanterns
Painting Scrolls
Chinese Zodiac Readings
Animal Face-Painting
Mini-Parade
Short Film Presentations
Virtual Gallery Tour
Free Giveaways!
Co-sponsored with Education & Statewide Partnerships at VMFA